---
November 18, 2015
BETA CAE Systems announces the release of
the v16.1.0 of its software suite
---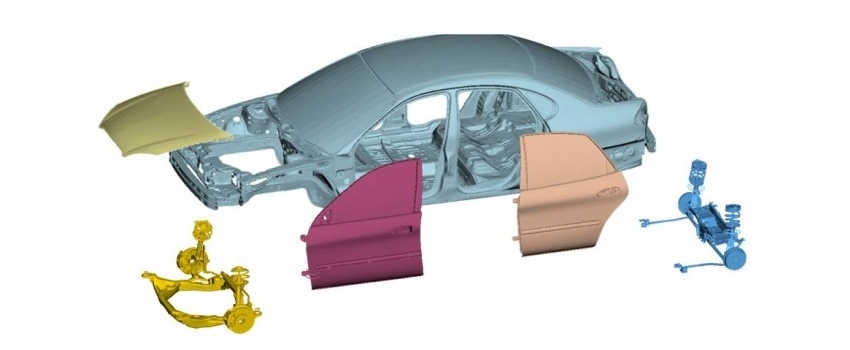 ---
About this release
BETA CAE Systems S.A. announces the release of the version 16.1.0 of the ANSA / EPILYSIS / META suite with new tools and capabilities to further augment functionality and facilitate CAE processes.
The ANSA / EPILYSIS / META v16x suite, brings BETA CAE Systems software suite to a new dimension, by providing complete solutions in the CAE field. Loyal to our commitment to deliver best-in-class software, we achieve our goal by introducing the new solver Eπilysys, as well as by providing new tools and functions per domain and per discipline.
The 16x version of the ANSA pre- processor provides full compatibility with previous major versions. As with every major release, a broad range of new features and enhancements to existing ones add value to our solutions, reinforce overall process consistency, accelerate user performance, and provide a considerable boost on productivity.
The EPILYSIS solver is the new addition to the BETA CAE Systems analysis tools family and is available with the ANSA / EPILYSIS / META suite. Named after the Greek word for solution, it operates as a solution in the field of Finite Element Analysis embodying the accumulated knowledge from 25 years of collaboration with the CAE community. EPILYSIS covers numerous solution types and intends to bridge the gap between pre- and post- processing for disciplines such as Structural, NVH, Optimization, and more.
The v16x version of the µETA post-processor builds upon the tools available in previous releases, now supporting an increased array of new interfaces including EPILYSIS, the in-house solver of BETA CAE Systems, as well as enhancing the multi-disciplinary tools.
The most important additions and fixes implemented in v16.1.0 are listed below.
Contents
Understanding the Software Release Schedule
New features in ANSA
New features in EPILYSIS
New features in META
Compatibility and Supported Platforms
Download

---
Understanding the Software Release Schedule
The plan
We are committed in delivering improved and enhanced software releases, the soonest possible, in order to meet the requirement of our customers for the continuous improvement of their experience and work. Therefore, we are working in releasing new software versions with code corrections, new software features and enhancements, in regular, frequent intervals.
- A major software version is released every year.
- First point releases, such as v16.1.0, v16.2.0, v16.3.0 and so on, with code corrections but also with additional software features and enhancements are released every three months.
- Second point releases, such as v16.0.1, v16.0.2 etc. mainly with code corrections only upon their parent first point release, are scheduled on a monthly basis.
Each software release is accompanied by a detailed description of the introduced corrections and/or additions so that our customers can decide whether it is critical to implement this release in their environment.
This release
This release of v16.1.0 brings additional features and code corrections on v16.0.x.


New features in ANSA
PDM to ANSA
CATProduct model definition can now be imported in the in the Product Tree Editor offering better control and facilitating the translation process.
New improvements in the Stand-alone Translator offer a more intuitive interface, and increased capabilities in settings handling.
NX UGOpen: Weld spots properly defined in NX, are now automatically recognized by the translator and converted to spotwelds. The connectivity is also filled-in automatically for each spotweld on parts' Module Ids.
Geometric entities handling
Handling Geometric entities, such as, Faces, CONs and Hot Points can now be automated through scripting.
Meshing
Shell mesh: A new Wrap [Constant Length] function offers now enhanced capabilities and the advantage of making modifications throughout the entire process.
Volume Mesh: Layers generation at concave areas is now improved to minimize squeezing.
Hexa Block: The steps to create both the box structure and the mesh, can now be stored for later reproduction reducing significantly preparation time.
New and enhanced functionality that significantly improves and facilitates complicated and high demanding meshing requirements for biomechanics applications.
The Jacobian quality criterion can now be effectively handled through the ability to set the desired calculation options.
Connections / Assembly
The capabilities of ANSA connection handling has been expanded in Bolt and Adhesive representations (FE elements) which can now be automatically converted to connection entities.
Solver Interfaces
The visualization of Material Orientation is now improved by continuous lines that define the orientation. This applies also on the Layers of composites.
The Mass Balanced tool has been improved to offer new features and a more user-friendly interface. The new features include an alternative calculation method that takes into account the Inertia values and, the ability to add masses on only the necessary regions.
Matereality: A new tool has been developed, in cooperation with Matereality LLC, that integrates material model data feeds into ANSA.
Safety
The coupling of the dummy to the seat has been facilitated through a stepwise assistant enabling quick coupling of their Kinematic Configurations.
NASTRAN
New Thermal Analysis solution keywords have been introduced for NASTRAN.
RADIOSS
Support of the version 13.0.
Information of Encrypted properties can now be read.
TAU
A new special interface for setting-up models for the TAU solver has been introduced.
Kinetics
Bodies: The option to merge two or more bodies into a single one is now provided.
Design Analysis>D.Simulator: More than one Objective can now be selected to issue results for either Design Studies or Design of Experiments.
For more details about the new software features, enhancements and corrections please, refer to the Release Notes document.

New features in EPILYSIS
Interface
It is now possible to define the number of arguments for the post processing in META.
Output
Output of stress results per layer on composite models is now supported.
Elements
Support of the PROJTOL option for CWELD elements in NASTRAN>Auxiliaries>Header
For more details about the new software features, enhancements and corrections please, refer to the Release Notes document.

New features in META
Mechanical & Sound Intensity Flow Paths
A new tool has been introduced to visualize mechanical and sound intensity results as flow paths.
Supported Interfaces
META further augments the support of solvers through:
ANSYS material properties.
Abaqus connector orientation.
Abaqus TRUSS and PC3D elements.
EnSight adaptive mesh and meshless results.
Fluent wall shear stress results.
H3D files for VDI2014 results' calculation.
LS-DYNA Results from d3eigv files in the NVH Tools.
Nastran temperature, enthalpy and flux results and keywords.
OpenFOAM FEMZIP NodeIdMap.
TechPlot polyhedral and polygon elements.
TechPlot models automatically created skin display for volume properties.
Solid elements from universal files of dataset 780.
Fringebar
The transparency of colors can now be adjusted from a slider in the context menu.
Selected color palettes can now be saved as session files.
Vector drawing on free nodes is now supported.
NVH Calculators
Improved performance of the Modal Response tool by utilizing CPU multi-threading.
The FRF Assembly tool now takes into account non-symmetric transfer functions of universal files.
The FRF Assembly tool now considers local coordinate systems per DoF for MPC connectors.
In the FRF Assembly tool a new option is available for TPA Fractions calculations to plot transfer functions, connection forces and point mobility results as complex curves over the frequency range.
The Modal Response tool can now calculate nodal stress responses and their participations.
Section Forces
Section force calculations of SC/Tetra results are now supported.
It is now possible to plot the variation of section forces across the path of an animating plane.
2D Plots
LS DΥΝΑ version 7.1.1 elout is now supported as ASCII and binout entity type.
Template complex curves for Pamcrash ERF files are now supported.
HIC results can now be calculated for accelerometer entities of Radioss T01 files automatically.
Spreadsheet Editor
Support of images and hyperlinks inserted in cells.
User-created spreadsheets can now be saved in META Project files.
User Toolbars
The Pedestrian toolbar supports comparing results from multiple target points' files and separate folders with results.
The IIHS toolbar now supports the processing of small overlap analysis results.

Compatibility and Supported Platforms
ANSA files saved by all the first and second point releases of a major version are compatible to each other. New major versions can read files saved by previous ones but not vice versa.
The .metadb Project files saved with META version 16.1.0 are compatible and can be opened by META version 16.0.0 or later. To open 16.1.0 files with versions earlier than 16.0.0, the corresponding saving option must be activated.
Support for 32-bit platform has been discontinued for all operating systems.

Download
Where to download from
Customers who are served directly by BETA CAE Systems, or its subsidiaries, may download the new software, examples and documentation from their account on our server. They can access their account through the "user login" link at our web site.
Contact us if you miss your account details. The [ PublicDir ] link will give you access to the public downloads area.
Customers who are served by a local business agent should contact the local support channel channel for software distribution details.
What to download
All files required for the installation of this version reside in the folder named "BETA_CAE_Systems_v16.1.0" and are dated as of November 18, 2015. These files should replace any pre-releases or other files downloaded prior to that date.
The distribution of this version of our pre- and post-processing suite is packaged in one, single, unified installation file, that invokes the respective installer and guides the procedure for the installation of the required components.
For the installation of the software on each platform type, the.sh installer file residing in the folder with respective platform name, for Linux and MacOS or the respective .msi installer file for Windows, 64bit, have to be downloaded.
In addition to the above, optionally, the µETA Viewer is available to be downloaded for each supported platform.
The tutorials and the example files reside in the folder named "TUTORIALS". This folder includes the complete package of the tutorials and example files, and a package with only the updated ones.
The Abaqus libraries required for the post-processing of Abaqus .odb files are included in the installation package and can be optionally unpacked.
Earlier software releases are also available in the sub-directory called "old" or in a folder named after the product and version number.

---