---
December 18, 2015
BETA CAE Systems announces the release of SPDRM v1.1.3
---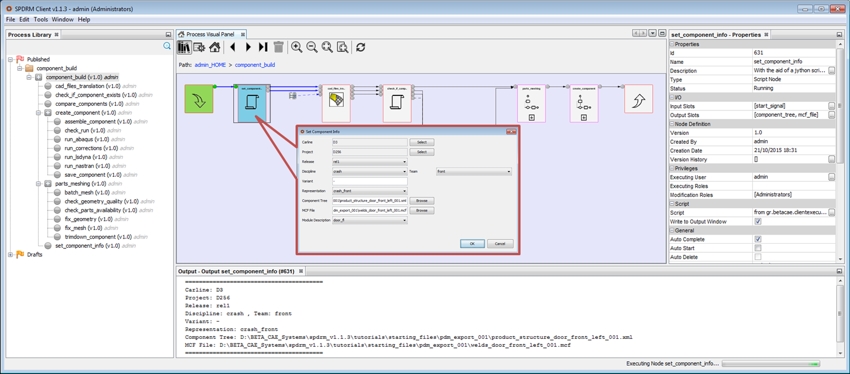 ---
Announcement
BETA CAE Systems S.A. announces the release of SPDRM v1.1.3.
This version delivers a number of enhancements and resolved known issues, to the users of the most advanced Simulation Process Data and Resources Management tool.
The most important code corrections are listed below.
Enhancements in SPDRM v1.1.3
Resources Management
The order of application switches for mimetypes is now customizable.
Scripting
New script functions have been added in the dm and process modules.
Miscellaneous
A new option has been added on the server configuration file to control whether the SPDRM user, or the OS user will be used during changing the ownership of files / folders in the vault's file system.
Known Issues Resolved
General
Major fixes of performance and stability issues.
Data Management
In some cases, the 'Set Privileges' action on multiple dm items or files could fail.
Resources Management
Some SPDRM global variables were not resolved when they were used by mimetypes.
The order of additional switches for mimetypes was changing when the "Apply" button was pressed.
ANSA Connect
In some cases, the component could fail to be saved from ANSA, when the latter was launched from a mimetype from within the SPDRM Client.
Miscellaneous
In some cases, the SPDRM server could fail to apply the proper permissions on the file system during import operations.
Download
All files required for the installation of this version reside in the folder named:
"SPDRM_v1.1.3" and are dated as of December 18, 2015.
These files should replace any pre-releases or other files downloaded, whcih had a date-stamp earlier to the above.
Customers who are served directly by BETA CAE Systems, or its subsidiaries, may download the new software and documentation from their account on our server. They can access their account through the "user login" link at our web site. Contact us if you miss your account details.
The [ PublicDir ] link will give you access to the public downloads area.
Customers who are served by a local business agent should contact the local support channel for software distribution details.
---