The key to 3D-modelling from CT-data of physical objects
---
Addressing the need of contemporary CAE community to embed new approaches, such as Computed Tomography (CT) and the integration of its data into CAE processes, BETA CAE Systems brings forth new software, in order to support the role of CAE, especially concerning high-end complex structures with multi-material approaches.
This new software, RETOMO, has been introduced to provide the capability of improving CAE based design, by adding CT to the correlation process.
Due to the immense amount of different data definitions and the overall complexity to interpret material and geometry, the need for a robust –yet intuitive– tool was more than demanding. RETOMO comes as a solution to this, by processing CT data in correlation with CAE and CAD data and applying high-end methods to read, process, reduce, reconstruct, and visualize the CT for the analyst/engineer.
The extension of high-end pre-processing tools, such as ANSA from BETA CAE Systems family products, to support this process offers a wide range of advantages, due to the extremely rich meshing functionality and file interfaces.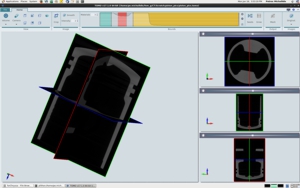 Minimal and Intuitive Interface
All tools and functions are grouped together on a ribbon, composing a minimal and user-friendly interface. The user has direct access to any of those, as well as direct interaction with the model during the analysis process.
Multi-material Volume rendering
Solid and transparent 3D Volume rendering allows the visualization of different materials with distinct colors, supporting instantaneous changes in number of materials or inter-material thresholds.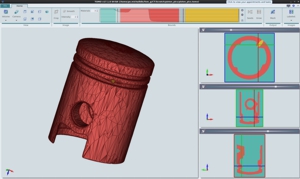 Multi-material Segmentation and Meshing
Multiple materials are handled simultaneously during the image segmentation and the user can generate separate meshes for all materials appearing in the scan, in a single pass.
Powerful Mesh processing tools
During mesh generation, the user can proceed with smoothing and simplification of the resulting mesh. This leads to more convenient model import and handling, despite the huge amount of datasets.
Stream Meshing capabilities
Sophisticated algorithms allow the user to work efficiently on big databases, without sacrificing resulting quality.
Batch mode execution
A session.xml file with all steps and processes can be automatically exported and can be revoked at a later stage from command line upon demand.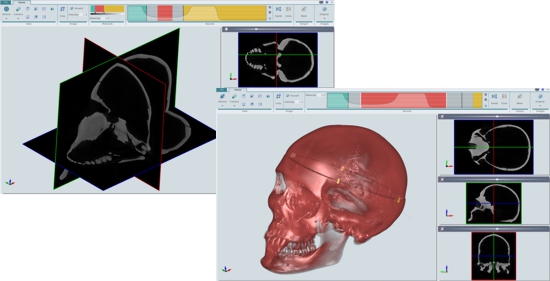 Multi-thread application
Making the most of RAM and available CPU cores, the user gains on time and effort, obtaining high-quality results.
Industry-oriented software
Unlike most CT applications, BETA CAE Systems software is primarily oriented towards the needs of industry, efficiently handling huge datasets and their resulting mesh representations.
---
Benefits
- Overall Process Consistency, at all levels
- Process Progress Interaction and Monitoring
- Highly Precise Techniques and Inspection Methods
- Effective Processes' Quality Management, especially when working with huge datasets
- Productivity Increase, thanks to the automatic assignment of tasks, as soon as their input becomes available
- Repeatability of Processes, even when using updated or different datasets and software tools
- Maximization of Reuse, for both data and best practices
- Maximization of Capability in delivering fast, results of high quality
---
Product Video
FE-Model generation from Tomography Datasets in RETOMO
Introducing Artificial Intelligence in generating 3D models from CT scans
TECOSIM: Reverse engineering of CT-scanned objects
RETOMO selected DE Editor's pick of the week
Common Questions and Answers on RETOMO
---