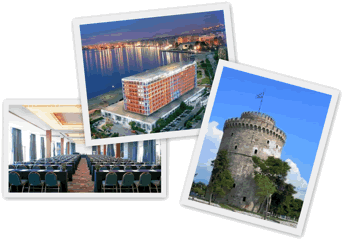 4th ANSA & META International Conference
June 1-3 2011
Makedonia Palace
Thessaloniki, Greece
Event Outline
Who Should Attend
Benefits of Attending
Topics of the Event
Call for Papers Closed
Speakers Registration & Accommodation Reservation
Preliminary List of Presentations NEW !
Delegate Registration & Accommodation Reservation
Official Airline - Special Offer With Lufthansa
Conference Venue
Contact and Further Information
Past Events
---
Event Outline

Being consistent to our biannual appointment, it is our pleasure to invite you to attend the 4th ANSA & META International Conference that will be held from June 1st to June 3rd 2011, in Classical Makedonia Palace Hotel, Thessaloniki, Greece.

The principal aims of this event are to bring the CAE Community together with BETA CAE Systems S.A. and to promote an international exchange of the latest concepts, knowledge and development requirements on our flagship software products, ANSA & META. Technical papers will be presented outlining the latest advances in CAE strategy, methodology, techniques and applications related to our products. Participants will have the opportunity to be informed about the latest software trends, demonstrate their concepts and achievements and present new development requirements.

Following the success of our previous events and after the request of the majority of the participants, the duration of our 4th conference will be of three days. The closer technical communication with the software developers' team of our products, within the framework of a technical forum, features this three-day conference.

Further discussions, sessions, meetings and events will allow the interaction between participants and organizers. Senior executives of our company, the engineers from the development and services teams and our business agents from around the world will be glad to meet with customers and users, to discuss the applications, the existing functionality, latest enhancements and future development plans of our software products. We expect that this will be a unique opportunity for you to share your success and for us to share our vision.

The attire of the event is business casual.
The language of the event is English.
Who Should Attend

The conference will be of interest to decision makers, strategy & methodology planners, simulation experts, applications users and researchers at the forefront of the CAE simulation for various disciplines, coming from OEMs and suppliers from a wide spectrum of industrial sectors, specially from, yet not limited to:

automotive
motorsports
railway
aerospace,

shipbuilding / offshore,
power tools,
electronics,
energy,

heavy machinery,
biomedical / biomechanics,
chemical processes,
academic, etc.

Benefits of Attending

Present your success stories and innovative ideas within a unique global forum.
Meet, exchange ideas and collaborate with CAE experts from around the world.
Keep up to date on the latest advancements in the field of CAE simulation with state-of-the-art software solutions.
Interact with our software development teams and promote your requests to influence future software development.
Enhance your relations with the technical support & services engineers of BETA CAE Systems and with its representatives of the worldwide sales & support network.
Learn more about our co-operations with leading hardware and software companies.

Topics of the Event

The technical forum and contributed presentations will demonstrate the current status and the future trends of ANSA & META applications in a spectrum of industrial sectors. A wide range of topics on various simulation application fields and disciplines will be covered, including:

CAE strategy & process planning
Process automation
Product and Simulation Data Management (PDM / SDM)
Durability
Crash & Rollover
Occupant & Pedestrian Safety
Dynamics
Noise, Vibration & Harshness

Computational Fluid Dynamics
Optimization
Composite materials modelling
Climate control
Engine technology
Heat transfer
Simulation results assessment, etc.

Call for Papers

Closed

Preliminary List of Presentations
*Titles and speakers are listed. Not all co-authors appear in the preliminary list.

Performance and graphics optimization on BETA CAE Systems products


Demir Ali, Advanced Micro Devices, Inc.

ANSA as an advanced tool in biomedical modelling and engineering


S. Savvakis, Aristotle University of Thessaloniki

Utilization of morphing/sizing capabilities to optimize performance of reinforced plastic components taking into account the fiber orientation effects


Marios Lambi, BASF Engineering Plastics

Extension of optimization capabilities with TOSCA, ANSA and ULTRASIM


Helge Weiler, BASF SE

Squeal Analysis of disc brake system


Hao Xing, Beijing E&G Software Co. Ltd

Impact analysis of a cellular phone with split band


Hongyi Li Ph.D,Beijing E&G Software Co. Ltd

CFD analysis of windshield heater system


Jiahai Jun Ph.D, Beijing E&G Software Co. Ltd

Oil pipe analysis of low cycle fatigue and fracture under reciprocating bending load


Ren HuaiHui Ph.D, Beijing E&G Software Co. Ltd

Calculation of vertical stiffness of air spring using Abaqus


Sun Jian, Beijing E&G Software Co. Ltd

Using ANSA for automated meshing and model build up of turbocharger housings for structural analyses


Dr. Frank Kruse, Dirk Dreissig, BorgWarner Turbo Systems Engineering GmbH, LASSO Engineering

Using ANSA for external aerodynamics and thermal management simulation and optimisation: CRF experience


Enrico Ribaldone, Centro Ricerche FIAT

A strategy for standardization and automation of door durability CAE analysis using ANSA Task Manager


Daniel James, Santosh Patil, Chrysler Group LLC, Beta CAE Systems USA

Cavitation simulation and experimental verification using a new Diesel nozzle design concept


Dr Nicholas Mitroglou, City University London

Development and use of an ANSA component for Isight process automation


Dr. David Kokan, Dassault Systèmes Simulia Corp.

Vehicle level Unified FEA using ANSA and Abaqus


Martin Roswall, Dassault Systèmes Simulia Corp.

Process development for multi-disciplinary spot weld optimization with Cax-LoCo, LS-OPT and ANSA


Gordon Geissler, Thomas Hahn, DYNAmore GmbH, Audi AG

Effect of PLY number & orientation of composite structure in bird strike analysis


Trivikram N L, EASi Engineering

Multi-objective optimization using modeFRONTIER interfaces for ANSA and META


Alberto Clarich, ESTECO Srl

EMC model building using ANSA


Filip Kadlcek, Evektor, spol. s r. o.

Durability AddOns for ANSA and META


Dr. Diethmar Fels, Ford-Werke GmbH

Design and analysis of a light cargo UAV prototype


A. Kovanis, FORTH (Institute of Computer Science Foundation for Research & Technology)

Computational investigation of octopus arm hydrodynamics


A. Kazakidi, FORTH (Institute of Computer Science Foundation for Research & Technology)

Automation and optimization - ANSA an essential aid


Marcus Christiansson, FS Dynamics Sweden AB

Automatic generation of XML formats report by using ANSA and META POST


Sadao Shibuya, Honda R&D Co. Ltd. Automobile R&D Center

Using ANSA in the process of NVH structural optimization with Beams and Shells FE concept models in the early car development phase at BMW


Dr.-Ing. Manfred Kroiss, Dipl.-Ing. H. Schneeweiss, Dr. L. Cremers, IABG mbH, BMW Group

ANSA batch meshing for CAD based vehicle concept modeling


Boris Lauber, ISKO engineers AG

CAE model interrogation & data mining


Nick Kalargeros, University of Hertfordshire

How to assess BIW structures from the fatigue point of view


Markus Kaltenböck, MAGNA POWERTRAIN Engineering Center Steyr GmbH & Co KG

Re-analysis methodologies for shape changes in NVH


Dr. Zissimos Mourelatos, Oakland University

[To be defined]


Herbert Klamser, A. Kaloudis, Dr. Ing. h.c. F. Porsche Aktiengesellschaft, BETA CAE Systems

Evaluation and visualization of equivalent radiated power in META POST


K. Wiechmann, P+Z Engineering GmbH

Spot weld modeling for vehicle durability performance with ANSA


Yunki Baik, Renault Samsung Motor Company

Safran 60 race yacht crashworthiness


Philippe Biagi, SAFRAN Engineering Services

CAE model build-up in collaboration with external suppliers not having direct access to the enterprise SDM environment


Zoran Petrovic, Siemens Industry Software GmbH & Co.

[To be defined]


Christoph Hinse, Simpatec Simulation & Technology Consulting GmbH

CFD simulations of flow over NASA Trap Wing Model


Andy Luo, Swift Engineering Inc.

ANSA mesh for power tools CAE application


Adams Liu, Techtronic Industries (Dongguan) Co. Ltd.

Simulation of Rail Roll and Track Buckling using LS-DYNA and ANSA


Daniel P. Malone, TUV Rheinland Rail Sciences, Inc, USA

CFD optimization via sensitivity-based shape morphing


Dr. Carsten Othmer, Volkswagen AG

Latest developments in ANSA


K. Kiouptsidis, BETA CAE Systems

Latest developments in META


S. Chatziangelidis, BETA CAE Systems

ANSA & META integrated suite for the detailed assessment of full vehicle NVH behavior


V. Pavlidis, BETA CAE Systems

Implementation and use of SPDRM to streamline a CAE process


S. Seitanis, BETA CAE Systems

The use of generic entities for multi-disciplinary pre-processing


Y. Kolokythas, BETA CAE Systems

ANSA & META evolution and contribution to the success of industry's CFD simulations


V. Skaperdas, BETA CAE Systems

Future developments in ANSA and META


C. Kolovos, BETA CAE Systems
Speakers Registration & Accommodation Reservation

In order to keep a low overall budget for all the participants, there is no participation fee.
Furthermore, speakers will receive free accommodation for the duration of the event, courtesy of BETA CAE Systems S.A. Please, note that only one of the authors of each paper can be registered and hosted as speaker. Additional authors may register without participation fee as delegates. Speakers' registration form submission is essential for the organization of the event and the accommodation arrangements. Accommodation reservations for speakers will be arranged by BETA CAE Systems based on the information that you will provide with the Speakers Registration Form.

Free speakers' registration includes:

delegate pack and full conference attendance,
accommodation and breakfast at the event's hotel, checking in on May 31st and checking out June 3rd (up to three nights),
coffee breaks during the event,
welcome reception on May 31st,
lunch and dinner on June 1st and June 2nd, and
lunch on June 3rd.

After the paper's acceptance notification, return the special Speakers Registration Form by fax or email to:
BETA CAE Systems S.A.
fax: +30-2392-021828
email: congress@beta-cae.com

Delegate Registration & Accommodation Reservation

In order to keep a low overall budget for all the participants, there is no participation fee.
Furthermore, registration is essential for the organization of the event and the accommodation arrangements.

Free delegates' registration includes:

delegate pack and full conference attendance,
coffee breaks during the event,
welcome reception on May 31st,
lunch and dinner on June 1st and June 2nd, and
lunch on June 3rd.

The hotel is reserving a range of rooms for the event at special daily rates:
Single occupancy room incl. breakfast: €115
Double occupancy room incl. breakfast: €135
Delegates' accommodation reservation requires full payment in advance.

Delegate registration and accommodation reservation should be made only to our partnering travel agent.
For registration to the event, accommodation reservation and pre-payment, please, fill-in and return the Delegates Registration & Accommodation Reservation Form by fax or email to:
Theodossiadou Travel
2 Venizelou st., 54624 Thessaloniki, Greece
Tel.: +30 231 0225 213, +30 231 0225 214
Fax: +30 231 0284 372
Email: theodossiadou-travel@theodossiadou-travel.gr
For special accommodation requests, please, contact Theodossiadou Travel.

Official Airline - Special Offer With Lufthansa
Special offer with Lufthansa
Discounted travel for the conference attendees

Lufthansa German Airlines offers a comprehensive global route network linking Thessaloniki, Greece with major cities around the world.
As the Official Airline to this event, Lufthansa offers special prices and conditions to all attendees.

To make your reservation, please click on this link and enter the access code GRTIQ in the "Access to Event Booking area".
This will take you into an online booking platform that will automatically calculate the discount offered or provide you with an even better offer if another promotional fare is available.
Please note that you may have to enable pop-ups on this site - otherwise the booking platform window will not open.

These promotional fares are also available via your IATA / ARC Travel Agent; please refer your Travel Agent to these ticketing instructions.

Conference Venue

Conference Halls & Hotel:




Makedonia Palace


2, M. Alexandrou Avenue
546 40 Thessaloniki, Greece
Tel.: +30 2310 897197
Fax: +30 2310 897211
E-mail: mkp@classicalhotels.com
URL: http://www.classicalhotels.com

Delegates accommodation reservations at the event hotel should be made only to the partnering travel agency. Speakers accommodation reservations at the event hotel will be made by BETA CAE Systems. For special accommodation requests, please, contact Theodossiadou Travel. Direct communication with the hotel is not required.

Location:
Classical Makedonia Palace, ideally located in the heart of the city and by the sea, offers breathtaking views of the City's historical White Tower and Thermaikos gulf. It is 15km from the Thessaloniki International Airport "Macedonia" (SKG) and walking distance from the city center.

Transportation:
The hotel is easily accessible by public or private transportation. Recommended transportation from the airport to the hotel is by taxi. Taxis are available on the arrivals level, at the front of the airport terminal.
For flights reservation, taxi booking or car rental you may contact Theodossiadou Travel.

Contact and Further Information

Delegates Registration & Accommodation Arrangements
Theodossiadou Travel
2 Venizelou st., 54624 Thessaloniki, Greece
Tel.: +30 231 0225 213, +30 231 0225 214
Fax: +30 231 0284 372
Email: theodossiadou-travel@theodossiadou-travel.gr

Event Organization, Papers Submission,
Speakers Registration & Accommodation Arrangements
Ms. Photini Paraskevopoulou
BETA CAE Systems S.A.
Kato Scholari, Thessaloniki
57500 Epanomi Greece
Tel: +30-2392-021914
Fax: +30-2392-021828
Email: congress@beta-cae.com
Url: https://www.beta-cae.com

Past Events
1st ANSA & META International Congress
2nd ANSA & META International Congress
3rd ANSA & META International Conference