---
---
WEDNESDAY JUNE 14, 2023
Session 1
The evolution of BETA CAE Systems portfolio in a nutshell
Chryssa Sferidou, BETA CAE Systems
Building simulation capabilities in Rimac Technology
Kristina Šarović, Rimac - Technology
Session 2
A new user experience in ANSA
Dimitrios Zafeiropoulos, BETA CAE Systems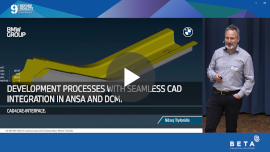 Session 3A
Automation of ANSA and META to evaluate occupant performance and seat structure for robustness
Hemant Shettar, Yatin Kumbhar, Santosh Patil*
BETA CAE Systems USA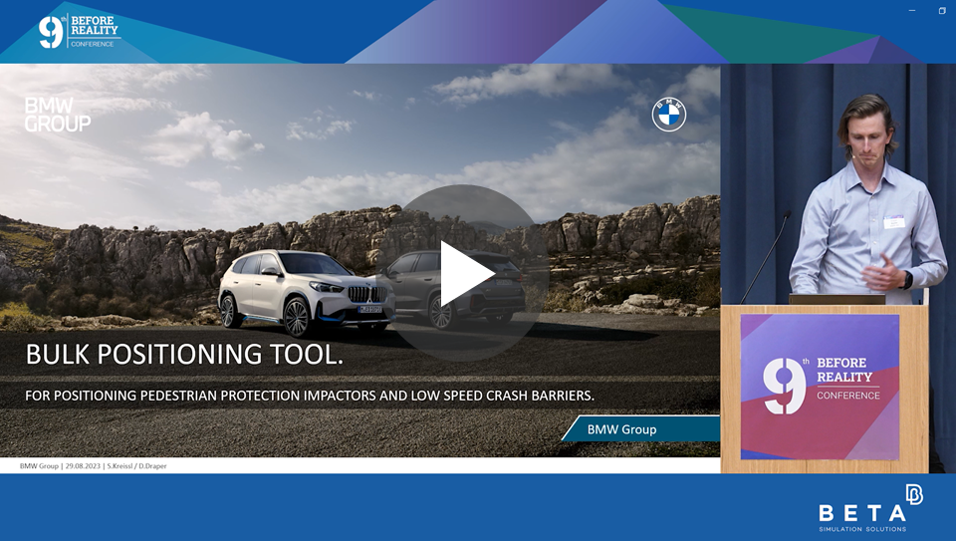 Cutting-edge FMVSS201U targeting and head positioning at General Motors
1Bingfeng Fan*, 1Liwu Zhou, 1Keshavlal Rathi, 2T. Lioras, 2P. Katsonis, 2T. Fokylidis
1General Motors Company, 2BETA CAE Systems
Virtual evaluation of system connectivity
Christopher Raprager
General Motors
Session 3B
Handling complex parameterization using ANSA for structural performance optimization
1Sudeep Chavare*, 2Florin Morar, 1Eric Gowen, 2Ravi Nimbalkar, 2Yatin Kumbhar 1General Motors, 2BETA CAE Systems USA
Implementing an automated process for updating CATIA files for optimization purposes
1Isabella Gavarini*, 2Zafeiria Kanellia, 2Spyros Tzamtzis, 2George Pentsas, 2Michael Tryfonidis
1BMW, 2BETA CAE Systems
Closing the Optimization cycle: incorporating CAD-design parameters
Michail Tryfonidis*, Zafeiria Kanellia, Spyros Tzamtzis
BETA CAE Systems
Latest and future developments in the Optimization Tool
Eva Ioannou
BETA CAE Systems
Latest and future developments in Morphing and Design Toolbar
Serafim Chatzimoisiadis
BETA CAE Systems
Session 3C
Reintroducing KOMVOS as a simulation data and process management desktop client
Irene Makropoulou
BETA CAE Systems
Unlocking the power of process management with SPDRM
Spyros Tzamtzis
BETA CAE Systems
Simulations across borders: using SPDRM's multi-site collaboration to unite global teams
Menelaos Pappas
BETA CAE Systems
Streamlining data extraction from Teamcenter: latest approaches to CAE Structure creation and maintenance
Ioannis Haralampidis
BETA CAE Systems
Session 3D
Mesh automation of runner systems for injection molding simulations
Christoph Mau
LEGO System A/S
Adopt injection molding manufacturing effects to improve parts' crashworthiness
1Panagiotis Fotopoulos*, 2Michael Richter*
1BETA CAE Systems 2MATFEM Ingenieurgesellshaft mbH
Efficient middle meshing: a benchmark on a headlight housing part
1Christos Sachanas*, 2Simone Chirra
1BETA CAE Systems, 3BMW Group
3D Mesh generation in ANSA for metal casting simulation with PROCAST - The Brembo automated process
1Panagiotis Fotopoulos*, 2Federico Zaramella*, 3Marcello Boschini, 3Giacomo Valsecchi
1BETA CAE Systems, 2BETA CAE Italy, 3Brembo S.p.A.
THURSDAY JUNE 15, 2023
Session 4
New equivalent static load (ESL) creation procedure for complete vehicle
1Jens Weber*, 2Luiz Ricardo, 1Jesper Bäcklund
1CEVT AB, 22Politecnico Milano
ANSERS: The single point-of-truth for simulation and physical test data
Antonis Perifanis
BETA CAE Systems
FATIQ - The comprehensive platform for streamlined fatigue analyses
George Korbetis
BETA CAE Systems
Session 5A
Streamlining simulation run preparation with an end-to-end modular methodology
Irene Makropoulou
BETA CAE Systems
From Includes to a comprehensive CAE application environment
Carsten Höfer
Hyundai Motor Europe Technical Center GmbH
Addressing challenges in the BiW model build-up process in AUDI AG
1Thanasis Fassas*, 2Richard Lindner
1BETA CAE Systems, 2AUDI AG
Closures deformation optimization considering Kinetic system
Jinsoo Shin
Hyundai Motor Company
Session 5B
Watertight simuation with SPH to preventing leakeage in design stage
Jong Hyun Baek*, Chul Hong Lee
Hyundai
The integration of ANSA into the Climate Control systems engineering CFD process at Ford
1Konstantinos Haliskos*, 2Igor Golberg
1BETA CAE Systems, 2FORD WERKE Gmbh
Advancing the virtual geometric representation of sealings on surrounding structures for precise simulation prediction in Aerodynamics Soiling and Aero-acoustics
Mattias Hejdesten
Volvo Group Trucks Technology
Session 5C
New features and enhancements in EPILYSIS
Panagiotis Pantazidis
BETA CAE Systems
ANSA plugin of Virtual Strain Gauge utilities for FEMFAT
1Minoru Nakano*, 2Kazumasa Kato
1BETA CAE Systems Japan Inc., 2MAGNA INTERNATIONAL JAPAN INC., Japan
Latest and future developments in simulations for durability and composites materials-made structures
Yiannis Asaniotis
BETA CAE Systems
Position effect of drain holes on crossmember for Side Poll Crush scenerio
Serhat Soyer
Siro Energy
Session 5D
The application of an IGA body-in-white in a hybrid full car simulation
1Frank Bauer*, 22Lukas Leidinger
1BMW, 2ANSYS
IGA technology validation for forefront crashworthiness CAE analysis
Pablo Cruz*, Lluis Martorell, Adrian Ros, Alejandro Dominguez
Applus+ IDIADA
Isogeometric Analysis in LS-DYNA: pushing the frontiers of modern simulation
1Lukas Leidinger*, 1Stefan Hartmann, 2Frank Bauer, 3Dave Benson, 3Attila Nagy
1DYNAmore GmbH, an ANSYS company, 2BMW Group, 3ANSYS
Methods and tools for IGA models for LS-DYNA
Lambros Rorris,
BETA CAE Systems
Session 6A
Bringing Human Body Models to life. The future in Safety simulations.
Lambros Rorris
BETA CAE Systems
Assessment of abdominal and skeletal loadings and kinematics during frontal impacts: employing a novel tool for HBM variants generation based on the occupant's BMI
Dimitris Zouzias*, A.Fokylidis
BETA CAE Systems
Comparison of the injury risk prediction of the THOR-Reclined dummy and the THUMS HBM
1Pablo Lozano*, 1Simona Roka, 1Alessandro Gravina, 1Genís Mensa, 2William Marshall
1Applus IDIADA, 2CELLBOND
Session 6B
Sensitized-RANS simulations of complex flows in conjunction with ANSA®: towards increasing efficiency
Louis Krüger*, Maximilian Bopp, Suad Jakirlic
Technical University of Darmstadt
Best-in-class CFD meshing for the aerospace sector
Vangelis Skaperdas
BETA CAE Systems
Session 6D
Isogeometric analysis in ANSA using local refinement and thb-splines
1Angelos Mantzaflaris*, 2Ioannis Chalkidis, 1Christos Karampatzakis
1Inria Center of the French Riviera University, 2BETA CAE Systems
Isogeometric contact analysis in G+Smo with preprocessing in ANSA
1Ch. Karampatzakis*, 2Dr. A. Mantzaflaris, 3Dr. I. Chalkidis, 4Prof. Ch. Provatidis, 1Prof. A. Mihailidis
1AUTH, 2Inria Sophia Antipolis, Université Côte d'Azur, 3BETA CAE Systems, 4NTUA
Session 7A
Model development and simulation process of customized numerical Human Body Models for the study and analysis of healthcare products
Alit Putra*, Mikael Almquist
ALTEN Sweden
Geometric variation of pelvic bone in Human Body Models with focus on submarining risk
1Marius Rees*, 2Prof. Dr. Steffen Peldschus, 1Philipp Wernicke
1BMW AG, 2LMU München, Biomechanik und Unfallforschung, Institut für Rechtsmedizin
Addressing positioning challenges for ATDs and HBMs: embracing the ANSA approach in industrial safety applications
Thanassis Fokylidis*,
BETA CAE Systems
Advanced FE biomechanical positioning method
1Francesco Cappellino*, 2Alessandro Sias
1C.R.F. S.C.p.A, 2FCA Italy S.p.A.
Session 7B
Latest and future developments in ANSA and META for CFD
Grigoris Fotiadis
BETA CAE Systems
Suitability assessment of various meshing strategies for CFD applications
Nicholas Mitroglou
BETA CAE Systems UK
Introducing Flow360 - a fast and accurate CFD solver integrated with ANSA
Maciej Skarysz*, CJ Doolittle, Zongfu Yu
Flexcompute
Session 7C
Latest and future developments in NVH
Vassilis Pavlidis
BETA CAE Systems
Optimization of sound pressure and vibration levels in automobiles and response predictions using Deep Neural Networks
1Vinamra Gehlot*, 1Thomas Roy, 2Markus Herbst
1EDAG Engineering GmbH, 2BETA CAE Systems
Comparison of the numerical accuracy of Superelements and FRF Assembly
Markus Herbst
BETA CAE Systems
Vibroacoustic coupling: a new approach
Kostas Skolarikis
BETA CAE Systems
Session 7D
ANSA and META for battery electromagnetic simulations
Athanasios Papadopoulos
BETA CAE Systems
Computational electromagnetics with ASERIS-BE™
1Benoît Chaigne*, 2Christos Liontas
1IMACS, 2BETA CAE Systems
Thermal simulation of PCBs using ANSA ECAD Importer, ANSYS Fluent and META
1Christos Liontas*, 2Alexis Sanjaime
1BETA CAE Systems, 2Thales
Automating meshing and thermal analysis for an EV battery pack with ANSA TAITherm and CoTherm
1Sacha Jelic*, 2Daniel Woodford, 2Eli Datema
1ThermoAnalytics GmbH, 2ThermoAnalytics Inc
FRIDAY JUNE 16, 2023
Session 8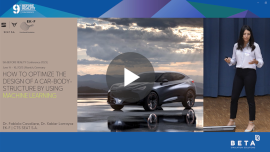 Machine Learning Tools for accelerating CAE and unleashing Design Exploration
Dimitris Drougkas*
BETA CAE Systems
Session 9A
Latest & future developments in Crash and Safety
Thanassis Fokylidis*, Thanassis Lioras
BETA CAE Systems
Optimization and quick verification of an electric vehicle side-frame design using Machine Learning methods
Christina Chatzigeorgiadou*, Athanasios Papadopoulos
BETA CAE Systems
Prediction of Occupant safety utilizing Machine Learning and CARLA Autonomous drive simulation software
Dimitris Drougkas*, Panagiota Kagioglou
BETA CAE Systems
Session 9B
Structural optimization of wing elements of an unmanned air vehicle
Andreas Psarros*, Georgios Savaidis
Lab of Machine Elements and Machine Design, AUTH
FE analysis of closed cell aluminum foam under impact loading
1Nikolaos Michailidis*, 2C. Tegos, 1E. Smyrnaios, 1F. Stergioudi, 3G. Maliaris
1Physical Metallurgy Laboratory, AUTH, 2BETA CAE Systems, 3Additive Manufacturing Laboratory, International Hellenic University
Simulation of shot peening implementing stochastic aspects
Christos Gakias*, Georgios Savaidis
Laboratory of Machine Elements and Machine Design, AUTH
Session 9C
NEERE: Beyond maturity, as a communications and training platform
Gerasimos Skouvaklis
BETA CAE Systems
Eliminating physical clamping processes with the aid of Engineering Simulation
Panagiotis Pantazidis
BETA CAE Systems
Breaking down the interoperability barrier among different FEA software
Thanasis Fassas*, Georgios Mokios
BETA CAE Systems
Session 9D
Exploring the latest developments in RETOMO
Vangelis Karatsis
BETA CAE Systems
Latest developments and future roadmap of the BETA Development Platform
Yianni Kolokythas
BETA CAE Systems
---